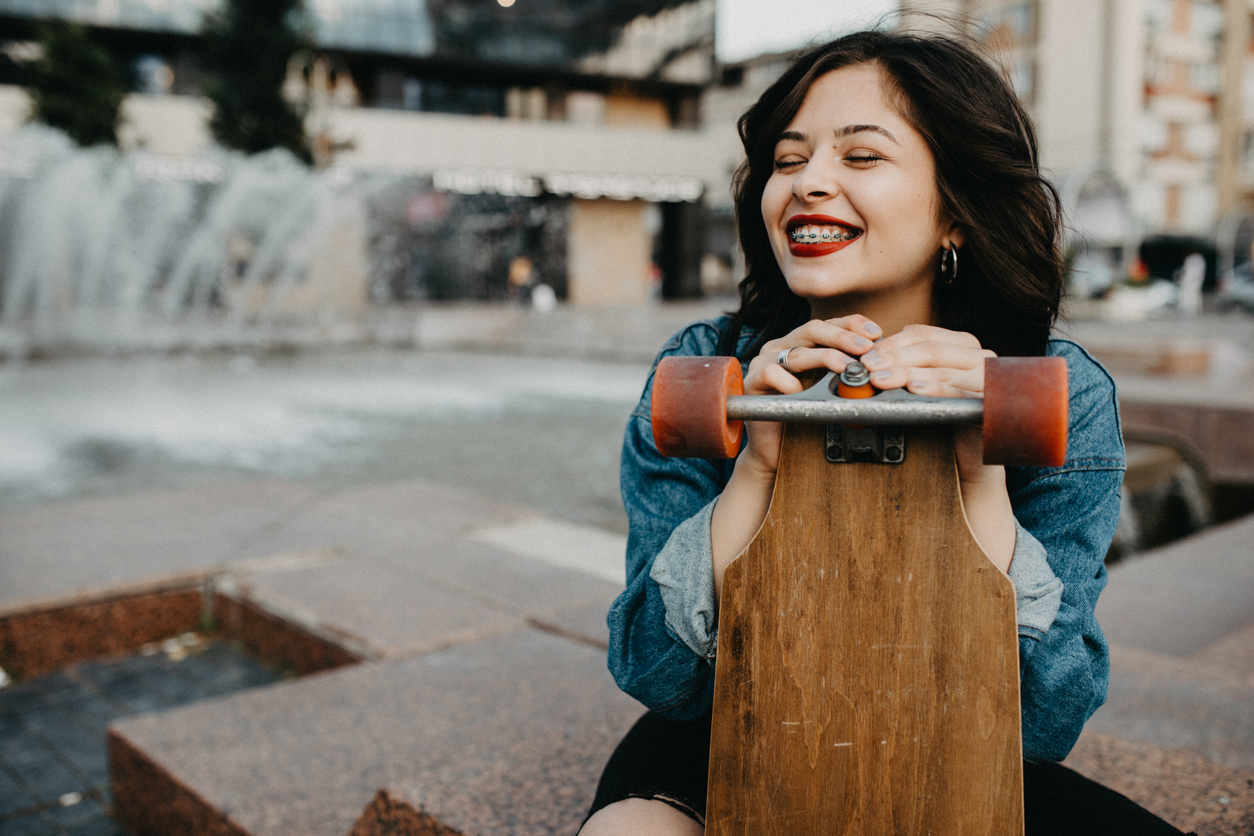 Few people are born with flawless teeth — if you've had crooked teeth from childhood or your teeth have shifted over time, you might be apprehensive to undergo orthodontic treatment as an adult.
Luckily, improving the health and beauty of your smile as an adult is easier than ever. Adult braces can give you the smile you've always wanted, without feeling self-conscious about bulky braces.
Here's what you should know about how adult braces work, and how you can benefit from a visit to Access Health Dental for braces at any age.  
What Are Your Options for Adult Braces?
When you think of braces you might imagine a kid with teeth covered in silver brackets and colorful rubber bands. But today, braces come in a variety of options depending on your specific orthodontic needs.
At Access Health Dental, we customize orthodontic treatment plans to address your oral health concerns in the most efficient way possible. We take into consideration aesthetics so that you can feel confident while you align your teeth.
We offer many kinds of adult braces, including:
Traditional Braces for Adults
These are the most traditional orthodontic solution and will effectively resolve even the most complex dental concerns.
They're made of metal brackets that are glued to the surface of your teeth and a metal wire that holds these brackets together. You'll have them adjusted every 6 weeks as your teeth continue to realign.
See if traditional braces for adults are right for you >
Ceramic (Clear) Braces
These work in the same way that metal braces do, but their brackets are made from clear ceramic material rather than metal. These adult braces are a more discreet orthodontic solution that you'll barely notice.
Clear Aligners
Clear aligners are made from clear plastic trays customized to fit your teeth perfectly. They're virtually invisible and can be removed to eat and clean, making them a popular option for adults.
They must be worn at least 22 hours a day and are replaced every 2-3 weeks in order to shift your teeth and jaw placement over time.
Learn more about clear aligners for adults > 
What Dental Problems Can Adult Braces Resolve?
Braces are effective at resolving a number of common oral health concerns. Some reasons to get adult braces include:
Misaligned teeth

 

Overcrowding

 

Gapped teeth

 

Overbite

Underbite

Crossbite

TMJ or jaw pain
During your initial consultation at Access Health Dental, your orthodontist will identify which dental issues you have by performing an oral exam and taking a digital scan of your mouth.  
Based on your exam and scans, they'll recommend the best orthodontic option to resolve these issues as quickly and comfortably as possible while addressing your preferences. 
What Are the Benefits of Wearing Braces as an Adult?
While you may be interested in wearing braces as an adult to achieve a more radiant smile, undergoing orthodontic treatment can be beneficial in many ways.  
When your teeth are in the proper position, you look better, feel better, and can enjoy a healthier life. 
Here are some of the many benefits that come with wearing braces as an adult:
Boosting confidence

 

at school, work, or in social situations

 

Relieving 

TMJ pain

 

Reducing the chances of experiencing a dental injury

 

Making it easier to bite, chew, and speak

 

Aids in proper digestion by allowing food to be chewed completely

 

Saves money by reducing emergency dental visits

 

Prevents bone loss

 

Improves overall oral health

 
How Long Do Adults Have to Wear Braces?
The amount of time you'll wear braces as an adult depends on the condition of your mouth, the type of braces you choose, and your lifestyle. Most people can expect to wear braces for around 2 years, though some treatment plans are much shorter.  
Typically, adults will have to wear braces for a bit longer than children. This is because the mouths of young people are still growing and changing, making them more responsive to orthodontic intervention.  
Additionally, adults tend to have more complicated dental issues that can affect the length of your orthodontic treatment plans, like periodontal disease. 
The best way to ensure your time in braces goes as smoothly and quickly as possible is to practice good oral health habits every day and follow your orthodontist's guidelines. 
Neglecting to care for your teeth or braces could mean experiencing more oral health problems and extending your treatment time. 
Are Adult Braces Right for You?
At Access Health Dental, we're committed to helping you achieve a healthier, more beautiful smile, no matter your age.  
If you're worried that you're too old for braces, we're here to assure you that you're not! Age should never prevent you from improving your oral health and boosting your self-esteem. 
If you have healthy teeth and strong gums, you're a great candidate for adult braces. But if you struggle with oral health concerns, that doesn't automatically disqualify you from undergoing orthodontic treatment either.  
The best way to determine if adult braces are right for you is to schedule a consultation with our compassionate team. 
The Cost of Braces for Adults
The cost of adult braces will depend on your dental insurance plan as well as which type of braces you get. We provide dental savings plans to our patients to help you save money on your care.  
Learn more about dental savings plans for adult braces > 
It's Never Too Late to Improve Your Smile at Access Health Dental
If you're ready to achieve the straight, beautiful smile you've always wanted, we're here to help you every step of the way. With adult braces, you can look your best, feel confident, and improve your oral health quickly and conveniently. 
To learn more about how adult braces can benefit you, schedule your free consultation or visit us today.
We can't wait to give you a reason to smile again!
Schedule an appointment for your adult braces consultation >