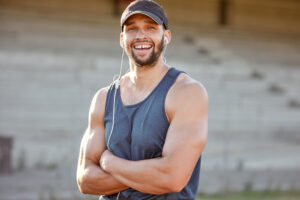 Like fingerprints, each person's smile is unique. Many irregularities and imperfections in your teeth are completely healthy and can give your smile character. One of these might be a gap between your 2 front teeth. 
A gap between your teeth is called diastema. It commonly occurs between your 2 upper front teeth, where it's known as midline or median diastema. 
Many people love their midline diastema, but others may not. When the gap hasn't changed in several years, diastema is rarely a sign of anything wrong with your teeth. Still, many people may choose to address it for cosmetic reasons. 
If you haven't fallen in love with the gap between your teeth, Access Health Dental has several options for correcting it. 
Causes of Diastema
Diastema often shows up in children — nearly half of kids under 6 years old will have a gap between their 2 front teeth. Diastema in children often corrects itself by age 8 or 9 as kids lose their baby teeth and their adult teeth emerge. Between the ages of 12 and 18, only 7% of teens still have diastema. 
There are a few causes of diastema that may lead to a gap between your teeth that carries into adulthood. 
1. Tooth Size
Gapped teeth might be caused by the size of your teeth in relation to your jawbone. If your teeth are small in proportion to the size of your jaw, gaps may appear. 
Diastema can also develop if some teeth are missing or undersized. This is especially true if your upper lateral incisors — the teeth on either side of your top front teeth — are small. 
2. Labial Frenum
The structure of your mouth itself may be the cause of gaps between your teeth. The tissue extending from the inside of your upper lip to your gum above the upper front teeth is called the labial frenum. 
When your labial frenum is oversized, it can change the structure of your teeth and create a gap. 
3. Incorrect Swallowing Reflex
A few habits can cause diastema as well. When you swallow correctly, you press your tongue against the roof of your mouth. 
People with an incorrect swallowing reflex may press their tongue against their front teeth instead. That repeated pressure can gradually push your teeth apart over time. 
4. Oral Habits
Thumb sucking, lip sucking, tongue thrusting, or other oral habits can also cause diastema if they persist over the course of years. 
5. Gum Disease
If diastema has appeared in adulthood, it's a sign that your teeth are migrating. This might be a symptom of gum disease, in which case you should make an appointment with your dentist as soon as possible. 
Diastema Treatment
If your diastema hasn't changed and you'd like to correct it, you're in luck. 
At Access Health Dental, we have several diastema treatment options. These are effective for median diastema — a gap between your 2 front teeth — as well as correcting gaps between any other teeth. 
Traditional Braces
With all the advancements in orthodonture over the decades, traditional braces might feel outdated. But they've stuck around for a reason. 
Traditional metal braces still afford orthodontists the greatest amount of control in moving teeth. That's why many orthodontists actually prefer them over more modern options. 
Traditional braces are highly effective in fixing teeth gaps (as well as addressing many other orthodontic conditions). If you had braces as a child and are considering getting them again, good news — metal braces have gotten significantly more comfortable in recent years. 
If you have a few gaps in your teeth that need correcting, traditional braces might be the most effective way for you to change your smile. 
Clear Aligners Like Invisalign and Invisalign Teen
In recent years, clear aligners have emerged as a modern alternative to traditional braces. Clear aligners are transparent retainers created just for your mouth. You wear them continuously to correct mild to moderate orthodontic conditions. 
The most well-known brand of clear aligners is Invisalign. At Access Health Dental, we've seen how effectively Invisalign can transform a smile. The light and consistent pressure of Invisalign clear aligners shifts teeth quickly and comfortably. 
Invisalign is also more discreet than traditional braces and might be perfect for milder to moderate corrections. Plus, Invisalign can often treat orthodontic issues in less time. 
Recent technology makes Invisalign even easier to get. The iTero Scanner allows dentists to get digital impressions of your teeth without the messy putties traditionally used to get molds of your teeth. 
Diastema Correction for Adults and Kids
Whether you're looking to correct your own diastema or want to help your child build their confidence by fixing theirs, Access Health Dental has you covered. We offer traditional braces and Invisalign for both adults and kids. 
We've served so many children with orthodontics that we're the premier provider of kid braces in Southern Nevada. If you're considering traditional braces or clear aligners for your child, we can help you determine the best treatment plan for their teeth. 
How to Fix Diastema with Access Health Dental
If you're interested in correcting your diastema, we want to walk you through your options and explore what's right for you. We'll discuss cost, timeline, comfort level, and preferences for treatment. 
And with our mobile dental office, taking great care of your teeth is easier than ever! We bring our state-of-the-art mobile dentistry unit to you — no sitting in traffic or making a long drive after work hours to get your teeth cleaned. 
Ask your employer about having Access Health Dental's mobile dentistry come to your office so we can take great care of you and your coworkers. We provide all the services of a regular dentist's office, from cleanings to X-rays to root canals.  
In addition to insurance, we offer our AHD Smiles Dental Savings Plan to make dental care accessible to everyone. There are no deductibles, no exclusions, and no waiting periods on treatments
Contact us to discuss your options and meet our caring team. We want to help you get the smile you've always wanted.