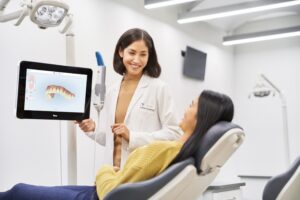 Are you looking to improve your smile with the latest technology? Or maybe you want faster results or more accurate treatments? 
Getting clear aligners can be exciting, but taking impressions of your teeth requires lots of time and precision. Whether you have a bit of crowding or an issue with your bite, it's easier than ever to straighten your teeth quickly and effectively. 
You can get the most advanced orthodontic care available while knowing your dream smile is in the near future.
Invisalign® is one of the most popular brands of aligners. They're clear trays that shift your teeth into place over time. Invisalign is very common thanks to its ease of use and invisible appearance, making it especially popular with adults. 
But the process of getting a perfect mold of your teeth every time you need a new tray can be tedious, messy, and time-consuming. 
Here's everything you need to know about the innovative iTero® scanner, and how it can help bring out your best smile.
What is the iTero Scanner?
As technology advances, dentists have developed an easier way to get impressions of your teeth. Access Health Dental is excited to introduce the iTero digital scanner to patients seeking to improve their smiles. This scanner allows dentists to easily get a 3D scan of your teeth, with no need for messy putties or extra waiting time to process molds.
The iTero digital scanner is a device that allows dentists and orthodontists to get a comprehensive scan of your teeth. From the creators of Invisalign, this device makes it incredibly easy to get the perfect impression of your teeth, which is important when getting fitted for clear aligners.
The iTero scanner takes 6,000 pictures a second to render an exact replica of your teeth. iTero Time-lapse compares records over time and keeps track of your dental health. 
You and your dentist can clearly see a 3D model of your teeth in just a few minutes. This is used to form your treatment plan and begin the Invisalign process as your dentist can quickly send your scans in minutes to start creating your aligners.
iTero vs. Traditional Dental Impressions
Gone are the days of taking a mold of your teeth with a messy goop that isn't fully accurate — the iTero takes a high-definition 3D scan of your teeth to get you the best fit for your Invisalign.
It can take a considerably long time to begin your treatment with traditional molds because they need to be delivered to specialists who can analyze them. The iTero scanner makes it quick and easy to get an accurate scan of your teeth that can be sent immediately to make your oral devices.
Here are the steps involved in getting a traditional mold of your teeth:
Your dentist gathers the needed materials and mixes the compound needed for the mold. This forms a goopy putty.
The putty is placed in a tray, and your dentist puts the tray in your mouth. This step is crucial because the putty hardens very quickly. If you move a bit and the mold is imperfect, it may be rejected.
Your dentist sends the molds to a lab to create your aligners.

 

When your mold is received, it's scanned and analyzed. It can be especially frustrating if the mold is rejected at this point because you and your dentist will need to start the entire process all over again.
Your dentist receives the necessary feedback they need to adjust and begin your treatment plan.
If you'd like to see how far along you are in the treatment process, you'll have to do the entire process again and have another impression taken. 
On the other hand, the iTero offers the Invisalign® Outcome Simulator and Progress Assessment tool that allows you to see your progress on the spot.
The iTero scanner streamlines the procedure, allowing your dentist to take an accurate scan of your teeth in minutes, share your diagnostic results and send the findings to labs equally as fast.
This allows your dentist to begin your treatment quicker and more effectively — all without the goopy putty, imperfections, and extra wait time.
If you want to see how far along you are in your treatment, the Invisalign Progress Assessment can track your progress at every appointment and show you exactly how your teeth are moving over time. There's no need for an extra impression.
How Does the iTero Give You the Best Smile?
The iTero scanner is incredibly precise. Traditional impressions can be tricky to get right, but the iTero takes a perfect scan of your teeth, helping your dentist accurately diagnose your unique issues and provide fast results. 
You can have peace of mind that your dentist has every bit of information they need regarding the health of your teeth without the chance of imperfections affecting the length of your treatment plan.
The iTero also shows you your scan on the spot, allowing you to easily have candid conversations with your dentist about your teeth and treatment options. The iTero allows you to see exactly what's going on while you're in the dentist's chair.   
It has never been easier to talk with your dentist about your oral health. The iTero closes the gap between patient and provider, bringing you both on the same page and allowing you to form your treatment plan quicker.
Are You Ready to Perfect Your Smile with the Latest Technology?
It's never too late to visit your dentist and begin your Invisalign treatment. The iTero's groundbreaking technology allows you and your dentist the clarity and speed you need to get your perfect smile as soon as possible.
Whether you're looking to improve the appearance of your smile, address a health concern, or prepare for the future, the iTero digital scanner makes it easy to get a beautiful smile fast.
Access Health Dental has iTero scanners at our many locations, and we're excited to help you begin your journey to a healthy smile.