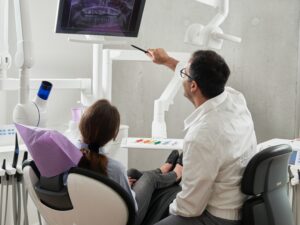 Oral health can be hard to keep up with throughout the year with the busy schedules most people lead today. Before you know it, a year has already passed and you haven't made it in for a teeth cleaning or checkup. Sound familiar?
Using your dental insurance benefits to their maximum potential is a great way to stay on top of your family's oral and overall health. Preventative checkups and frequent cleanings can save you thousands of dollars in healthcare costs. Emergency visits can cost significantly more for an issue that could have been resolved during a routine checkup. 
The majority of dental insurance plans run on a yearly calendar. By using your dental benefits before the year ends, you might be able save yourself and your family a substantial amount of money.
If you're ready to take charge of your oral health, now's the best opportunity to understand your dental coverage and start thinking about your next dentist appointment.
Dental insurance benefits are different than medical insurance benefits in that they often provided coverage for many preventive matters. While you'll need to consult your specific insurance plan, this means it could be possible to have certain appointments or procedures covered to prevent future oral health problems.
Since most dental insurance benefit plans cover preventive and maintenance care, it's important to be familiar with what's included in your dental insurance to make the most of those benefits.
Invest in your dental health by preventing oral diseases and other serious health issues. Preventative care can reduce costs and keep you and your family healthy.
Preventive dental care will save you money in the long run > 
To understand how to use dental insurance and maximize your benefits, we've gone into detail on different aspects of how dental insurance works and why it's important to use your benefits before the end of this year.

How Does Dental Insurance Work?

While dental insurance plans can vary in cost and benefits, most of them work the same way. Here's a breakdown of dental insurance and how it works.
1. Use It or Lose It Dental Benefits

'Use it or lose it' in dental benefits refers to the dental insurance annual maximum. The annual maximum is the amount your plan will pay toward your dental care during one year. 
The amount usually ranges between $1,000 and $1,500. The yearly maximum typically doesn't roll over to the next year if you haven't used your benefits, hence the phrase 'use it or lose it.' 
Most insurance plans cover 2 dental visits a year. This is why it's important to get your family's visits scheduled and use your dental benefits within the calendar year. That way you can avoid expensive emergency visits and stay on top of your oral health. 
2. Deductibles
Most dental insurance companies require a deductible to be paid out of pocket to your dentist before they'll cover any services. You'll need to pay for each appointment or service until you reach a certain amount (the deductible), and afterward your benefits will kick in for the remainder of the calendar year. The average deductible is around $50, although this will vary by company.
The deductible will reset at the start of a new year. So if you've already met your deductible for the year, don't be afraid to make any other appointments you need before it starts over again.
3. Dental Premiums
You're most likely paying a monthly premium for your dental insurance, and you should make sure you're using it to its full advantage. Whether your teeth are healthy or not, be sure you and your family are scheduling routine checkups since the checkups are already covered in your premium fees. 
Frequent dental appointments can save you a lot of money by catching small issues before they require expensive treatment. 
4. Fee Increases
Health care costs in the U.S. are increasing every year, and dental benefits are no different. These increases usually occur at the start of the new year due to higher costs of living and material costs — another good reason to use up your dental benefits. 
The Importance of Preventive Dental Care
Preventive dental care can result in major savings throughout the year for you and your family. Scheduling routine checkups allows your dentist to catch small issues before they turn into larger more serious problems which require emergency hospital visits. 
In the U.S, there's an emergency hospital visit for dental issues every 15 seconds. And these emergency dental issues and hospital visits cost more than money alone. Apart from financial costs, poor oral health can negatively impact aspects of daily life, like missing school or work, and long-term health effects.
For example, misalignment of your teeth when left untreated can lead to TMJ or gingivitis. Gingivitis can result in periodontal (gum) disease, along with other chronic diseases.
Cavities — one of the most common health issues in the world — can lead to serious health problems if they're not treated, such as tooth loss. Cavities are common in children and teenagers, and often they won't know they have a cavity until they visit the dentist. 
Bi-annual dentist appointments can prevent problems like cavities and gingivitis. 
Since oral health is directly linked to your overall health, neglecting it could lead to other serious health issues as well. Oral health has been linked to chronic diseases, type 2 diabetes, and Alzheimer's. 
How to Use Your Dental Benefits Before the Year Ends
Talk to Your Dentist About Procedures or Treatments You Need
If you've been putting off a certain procedure because it will exceed your annual maximum, there may be a solution. Sometimes treatments can be split into different years, avoiding going over your yearly maximum. 
Discuss all your options with your dentist now and find out if it's possible to get started with an upcoming procedure or treatment this year.
Schedule a Preventive Visit
If you're not in need of any treatments or procedures, scheduling a preventive visit is a great way to make use of your dental benefits before the end of the year. 
Staying on top of your oral health through teeth cleanings, fluoride treatments, or X-rays can minimize any problems that may occur later on. And these preventative treatments are often covered 100% by your dental insurance plans.
Don't Wait To Get the Care You Need
While you might think you or your kids aren't in need of a dental appointment any time soon, remember that routine checkups aren't only for teeth cleaning. Routine visits to the dentist can prevent potential oral health issues as well as overall health issues. 
If you have dental insurance, be sure to look over your plan and find out if yours has a 'use it or lose it' policy. If you're not sure where to find this information, you'll need to contact your insurance company or employee benefits department, depending on your insurance and who it's provided by.
If your plan has a 'use it or lose it' policy, it's time to schedule your next dentist appointment. 
Come see us for a checkup and cleaning before your benefits reset in January. We'll work hard to get you in our office for your necessary treatment and to help you maximize your benefits.
All offices are currently accepting new patients, and most offices have same-week appointments available.
If you don't currently have a dental insurance plan and know you need to invest in one, or change to a new plan, we've got you covered. We're proud to offer you and your family affordable, high-quality dental care with our AHD Smiles Dental Savings Plan.
Learn more about our dental savings plan and start saving today >