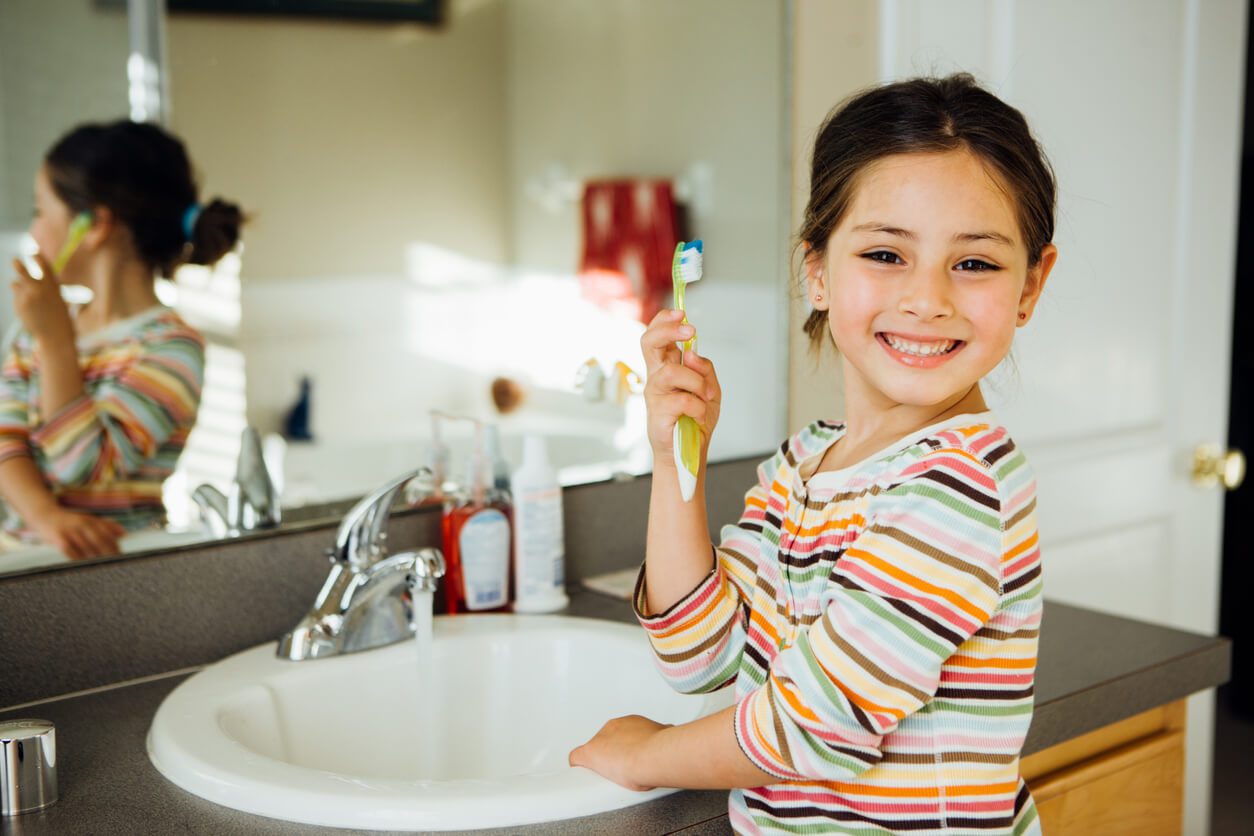 Getting your young children to focus on brushing their teeth for a full 2 minutes might sound impossible. Kids like to play and be entertained! Asking them to sit still long enough to brush their teeth can be a challenge. 
And whether your kids like brushing their teeth or not, it can be difficult for them to brush for the proper amount of time. And since their hand-eye coordination is still being mastered, they may not be brushing their teeth effectively to prevent things like cavities and gum disease. 
For kids who don't like brushing their teeth at all, it can become an ordeal at bedtime or in the morning before school getting them to brush, let alone brushing for the recommended 2 minutes. It's a common struggle for many parents with young children to brush their teeth correctly. 
Oral hygiene is important for kids to prevent cavities, tooth decay, and to protect their gums. Tooth decay and cavities are extremely common in children. Nearly half of children ages 6 to 8 have had a minimum of one cavity.   
By 7 years old, most children are capable of brushing their teeth without assistance, but that doesn't mean you can't implement healthy oral habits earlier. While younger children need extra help to ensure they're brushing correctly, it's a great way to get them interested in brushing their teeth and develop a healthy habit. 
But the reality of getting your toddler to sit still for 2 minutes to brush their teeth is another story. So just how do you get your little one to brush their teeth long enough, and actually like it?  
There are a few tricks to make brushing teeth more fun, like choosing a fun toothbrush and toothpaste, playing special music, or dentist games.  
But thanks to technology, there are now a number of kids teeth brushing apps and resources that help make brushing teeth even more exciting for your children. 
We've rounded up 10 of the best apps to help your kids not only brush their teeth long enough, but enjoy it too! 
Brush DJ App
If your kids like dance parties, this is the app for them. This app was created by a dentist to help patients brush their teeth for the full 2 minutes. You can choose the toothbrush song your child likes and dance to the music while they brush. Just be sure to supervise them to help them dance safely while brushing! 
Disney Magic Timer App
Oral-B's Disney Magic Timer™ app boasts that 98% of children brush their teeth longer when using the app. The app syncs to one of the toothbrushes from Crest or Oral-B Pro-Health Stages, so to use the app you'll need to purchase one of those products. Your kids can create their own profiles where they'll get badges, prizes, and see their favorite Disney and Marvel characters on the screen. 
Try the Disney Magic Timer App here > 
Toothsavers App
Toothsavers turns brushing teeth into a game for kids. They have to help save the cursed fairytale kingdom from an evil witch who left everyone's mouths to rot. This game involves fun characters like princesses and pirates, and kids are awarded points for completing challenges. There's even a setting to play with friends or the whole family. 
Try the Toothsavers App here >  
Chompers Podcast
You probably never thought of putting on a podcast to encourage your children to brush their teeth, but that's exactly what this podcast does. By listening to jokes, stories and fun songs, kids will be entertained and brush for the full 2 minutes. Chompers makes teeth brushing something kids look forward to. 
Try the Chompers Podcast here > 
Chomper Chums App
The Chomper Chums® app uses 3 colorful animal characters to help teach children to brush their teeth — a lion, horse, and an alligator. The app is a game where kids have to brush for a certain time in different areas to get points. Plus, the app teaches lifestyle tips like making healthy eating choices. 
Try the Chomper Chums App here > 
Aquafresh Brush Time App
This app features Captain Aquafresh, who teaches children how to brush their teeth, with songs and dances to make sure they brush for 2 full minutes. You can create different profiles on the app to customize for your kids, including songs, dances, backgrounds, and costumes. 
Try the Aquafresh Brush Time App here > 
Brush Teeth with The Wiggles App
This may be one of the best teeth brushing apps for toddlers. It shows a video of other children brushing their teeth along with the Wiggles characters to encourage your little ones to brush their own teeth. It includes a tooth brushing timer, and you can add more than one child to the app so they can get their own rewards. 
Try the Brush Teeth with the Wiggles App here > 
Brusheez Little Monsters App
With this app, children play with little monsters who they can customize. These monsters then help them brush their teeth along to music and a tooth brushing timer. There's a special feature where kids can turn individual teeth on or off when they lose their own baby teeth, so the monster's teeth are the same. 
Try the Brusheez Little Monsters App here > 
Stay On Top of Your Child's Oral Health
Finding a tooth brushing app that's fun for your child is a great way to get them excited about brushing their teeth every morning and night. Helping your kids brush their teeth effectively at a young age encourages them to create healthy oral habits.  
It's important to stay on top of your children's oral health to prevent tooth decay and cavities. Apart from being painful, poor oral hygiene can result in unnecessary orthodontic work for your kids as they get older, leading to expensive dental bills. 
Preventive dental care can save you and your family money in the long run. Brushing your child's teeth, or helping them brush their teeth, twice daily for 2 minutes is a great start. But while brushing teeth at home is important, it's recommended to visit the dentist frequently for check-ups.  
If you haven't already been to the dentist with your child twice this year, be sure to make an appointment to see your pediatric dentist now before the holidays.