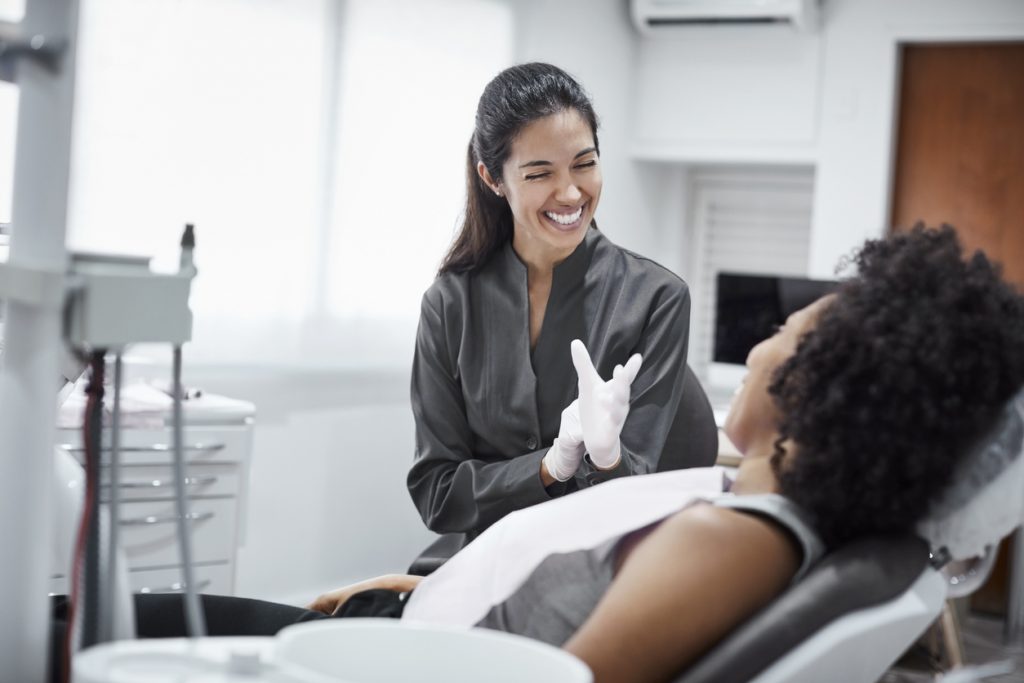 Can you believe 2020 is coming to an end? In some ways, it may seem like this year has lasted a lifetime — while in others, it may feel as if 2020 flew by in the blink of an eye.
With the impact that COVID-19 has had on the nation's health, work, and school routine, and more, chances are that your mind has been on things other than your next dentist appointment.
When your whole life has been turned upside-down, prioritizing health checkups isn't exactly on the top of your list. Then there's the concern about the germs that could be lurking in public places, making it even harder to get yourself to the dentist lobby.
Believe us, we get it. But you might want to bump "visiting the dentist" up on your to-do list after you read this.
There are little-known health risks you can face by skipping your dentist appointments. Plus, our offices have taken every precautionary measure possible to ensure that taking care of your oral health is a healthy and comfortable experience for you and your whole family. It's a win/win.
The Risk of Skipping Dentist Appointments
Your dental care is about far more than just white teeth and fresh breath. While it's nice to have both, your oral health makes a big impact on your entire body's health.
Without routine dental cleanings, harmful bacteria can buildup on your teeth and gums. This buildup can lead to tooth decay. And when left untreated, tooth decay can lead to infections and diseases like respiratory infections, heart disease, diabetes, and more.
Scheduling a routine dental cleaning at least once a year can help lower your risk of many health issues — not just those in your mouth.
1) Going to the Dentist Helps Prevent Lung Infections

Your lungs are an essential piece of your body. They keep oxygen flowing to every cell in your body, and help get rid of harmful waste when you exhale carbon dioxide.
With the threat of COVID-19, there's no better time than now to make sure your lungs are as healthy as possible.
Sure, you know it isn't good for your health to smoke, and that regular exercise helps build up your lungs' strength.
But did you know that going to the dentist for regular check-ups and cleanings can also support healthy lungs?
A recent study reviewed the cases of over 26,000 people who had been diagnosed with pneumonia. Studies revealed that people who had never visited a dentist were around 86 times more likely to catch pneumonia!
While brushing twice a day for two minutes each time and flossing once a day is the most effective way to maintain good oral health, there will always be hard-to-reach areas in your mouth where bacteria can build up.
This bacteria can be breathed into your lungs, causing irritation, infections, and a much higher probability of catching pneumonia. Ensuring your teeth are cleaned and looked at regularly by your dentist can help cut back on bacteria, especially the kind you don't want to inhale.
2) Going to the Dentist Can Help Prevent Disease
Along with having clean, healthy teeth, you can leave your next dentist appointment knowing you've made an effort to prevent life-threatening diseases, too.
Harmful bacteria in your mouth that causes tooth decay, gum disease and other issues doesn't just stay in your mouth. If left unattended long enough, it's absorbed into the rest of your body.
This can cause serious issues like inflammation and infections — some which can lead to clogged arteries. Clogged arteries can lead to heart attacks, stroke and other health complications.
You can prevent this by following a twice a day brushing routine and making sure to floss every night. It also helps to cut back on sugar and carbs, which can stick to your teeth in hard-to-reach areas.
Prioritizing a dental cleaning and checkup at least once a year helps ensure you can spot any serious health issues like this right away, and have plenty of help taking care of it.
3) Going to the Dentist Can Help You Save Money
At Access Health Dental, not only do we believe in keeping you safe and healthy, but we also like to see you save money.
Regular check-ups and cleanings help prevent you from needing bigger, more expensive procedures down the line, like root canals or crowns.
While these procedures are fantastic for repairing any damage caused by tooth decay, it's better to avoid them, as they can cost you a lot more than a routine check-up every year.
How We're Keeping You Safe
During a pandemic, visiting a public doctor's or dentist office may be the last thing you'd think to do. Fortunately, the CDC and other agencies have we've researched ways to make dental processes safe and sanitary.
At Access Health Dental, we've followed every step recommended by the CDC and more to ensure your and your family's health when you visit our offices:
Our office is communicating with all patients before their appointment to inform them of all appointment details and ask pre-screening questions. In addition, our front desk team emails all forms and consents to review prior to any appointment.
Temperature checks are being conducted on every patient and team member entering the office.
We're staggering appointments to allow for time to properly sterilize all areas in between each patient and we are routinely wiping down all surfaces, door handles, and switches in common areas.
We've reduced aerosol use in accordance with safety guidelines. (Our hygienist will be wearing a N95 mask, or equivalent, often with a surgical mask on top along with goggles and a face shield (this is same for rest of clinical team, as well). They are also wearing surgical gowns. 
The ultrasonic instruments are limited to be used only when medically necessary. When a patient has active disease, it will be used with care. Otherwise, hand instrumentation will be used.  When using the cavitron we have proper HVE precautions be taken to reduce the spread of aerosols.)
The office has air purifiers installed throughout.
·Our desk areas have plexiglass partitions at our front desk areas.
We've removed all non-essential items like magazines from our sitting area that are not easy to clean and disinfect. 
You and other patients will also be given clear guidelines to help ensure each other's safety, such as:
Wearing a protective mask or face covering.
Washing your hands frequently and use hand sanitizer as needed.
Leaving guests behind, with the exception of minors of patients that need additional medical assistance.
Paying all co-pays and balances via phone when possible as part as your pre-appointment call to minimize in-office contact.
Staying home or re-schedule your appointment if you have a fever or cough, are symptomatic or have been around anyone with a confirmed COVID-19 diagnosis in the last 14 days.
There's no feeling quite like having a fresh, clean, cavity-free mouth — except maybe knowing that great oral health also helps the rest of your body stay healthy, too!
Social distancing has put a lot on hold, but you don't need to worry about putting your dental cleanings on hold any longer. Schedule your dental appointment today >